Just a few hours until it is October. I think, for me, September was the fastest month on record! It is a trend I hope does not continue, though I have my doubts. Actually, we had a couple weeks off from touring, and it gave me a chance to make some headway with all that has piled up over the Summer. I was able to bring a small bit of order to my garden and yard, while enjoying the fruits of all the Spring work I did: raspberries, tomatoes, broccoli and brussel sprouts, onions, kale..blue potatoes :-)…and bitter sweet and Chinese lanterns, which have always been favorites of mine.
Getting ready for the first frost here in Ann Arbor, though Michael 30 miles west in Grass Lake has had to scrape his windshield in the morning a couple of times! I have a two cold frames now, with spinach, radishes, lettuce, carrots: exciting to see how long I can have fresh vegetables and how early I can get them in the Spring! Continue reading →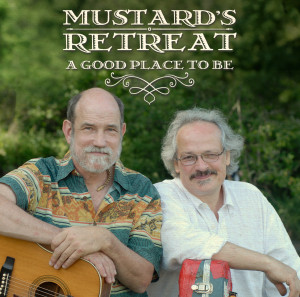 We are anxiously anticipating our shows next weekend: The Ark on Fri. July 26th, and the Flint Folk Festival Saturday July 27th, where we are being given the distinct honor of closing AND opening the festival…playing full sets of music at 2 PM and again at 8 PM.
Both the Ark and, well, anything we do in Flint :), are always special for us, and this year will mark, almost to the day, the beginning of our 40th year of making music together. Seems…..amazing to us. We got together to play guitar and sing one July afternoon in my apartment down the block from the Brown Jug Restaurant in Ann Arbor, where we were both cooks. It just had a certain…energy. Can''t really describe it, but we just really enjoyed doing music together: the sound was good and we liked each others songs…we had a lot in common. We were so excited that 2 days later we went to The Ark's open mike, where we performed the three songs we had practiced. We went over so well that they invited us back 2 weeks later to do a full 45 minute set at the Ark's First Invitational Hoot!  And we've been playing ever since.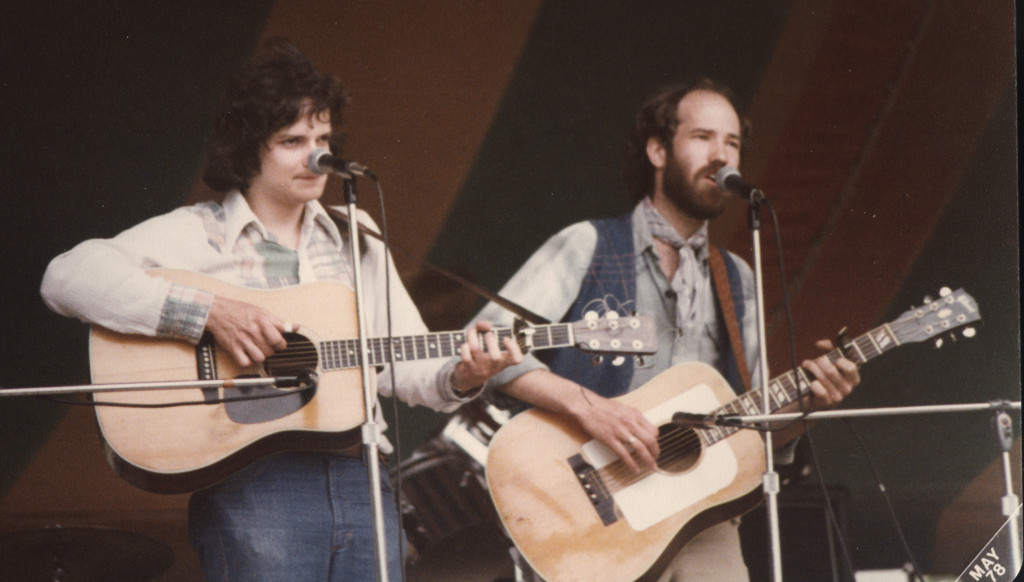 In July 1974, we first played music together. ..here in Ann Arbor, MI, in the living room of my small apartment on Church Street, ½ a block down from the Brown Jug Restaurant, where we both worked. Two days later we performed at The Ark 's open mic….. and they invited us back…….and off we went!
And now, we are entering our 40th year of making music. Kind of……well, it does give you pause…gives ME pause, at least. It doesn't SEEM that long ago…….
But here we..and glad of it! And so glad to still be doing music that is meaningful to us…and you!
The BIG news…we have finished out new CD. It is called A Good Place To Be, and will be available the last week of July. There will be directions for ordering soon on our web site. We think it is REALLY a great recording! Wonderful players, songs, stories, singers……many songs that people have been asking for. I have put two of them up on our player which you can download for free: A Good Place To Be, and A Reminder…just to give you a little flavor of what's to come!!
This message will be brief..more news, I hope, next time! We have shows with Peter Yarrow this weekend: in Columbus, OH this Friday http://www.sciotomile.com/ and Cleveland on Saturday http://www.cainpark.com/index.aspx?page=11
beautiful venues, and it is with…Peter Yarrow- doesn't get much better than this! Continue reading →